The New Orleans education community was taken by surprise on Monday, when the American Federation of Teachers (AFT) announced that educators at Lusher Charter School had formed a union. An AFT press release on the move stated:
"Educators at Lusher made public their commitment to stand together as the United Teachers of Lusher, an affiliate of the United Teachers of New Orleans and the American Federation of Teachers. Teachers delivered to management a petition of union support signed by a majority of teachers, teacher assistants and other certificated staff at Lusher. They are now calling on management to recognize their union and move forward with negotiating a collective bargaining agreement."
As the Times-Picayune noted, it is unclear when Lusher's faculty held the organizing vote or how the votes split.
Great news in New Orleans! Teachers as Lusher formed a union! https://t.co/d7vW1rFW2Z

— Randi Weingarten (@rweingarten) April 11, 2016
Nevertheless, Lusher's decision means that three schools – or 3.6% of all public schools in the city – have chosen to organize since Hurricane Katrina decimated the ranks of the
United Teachers of New Orleans
 (UTNO), once the largest AFT local in Louisiana.*
Ironically, it also means that two of the three New Orleans schools organized by AFT are selective-admissions charters under the Orleans Parish School Board. Lusher and Ben Franklin High School, whose teachers formed a AFT-affiliated union in March 2015, have long been two of the highest performing schools in the city, thanks to their ability to screen students. Those policies also help explain why both charters serve a disproportionate number of white, affluent families.

Much of the shock over Monday's announcement stems from the fact that Lusher is currently in the midst of a
nasty legal battle
over a proposed change in the way public schools are funded in the city. The plan would allocate funds based on a weighted formula that more accurately reflects the added costs of serving English Language Learners, and at-risk and overage students, and children with special needs.
Lusher and a handful of other selective-admissions charters would likely see a slight decrease in their annual funding under the new formula since they serve relatively few special needs and at-risk students. Nevertheless, officials at Lusher are steadfastly opposed to any reduction and filed a lawsuit in federal court last month to block the plan.**
Union Has Been Lurking, Waiting To Pounce
It's unclear what role, if any, the funding fight played in the decision by Lusher staff to unionize, but what is certain is that the American Federation of Teachers has been waging a long-running campaign to discredit the substantial academic gains made by the city's public schools in the union's absence.

AFT on New Orleans Reform
It's also become apparent that AFT and its state and local affiliates have been quietly lurking on the sidelines looking for opportunities to organize the city's charter schools, presumably in an effort to eat away at the reforms from the inside out.
Over the past year and a half, AFT has been hiring organizers to target charters in the Crescent City and they've been popping up in the most unexpected places. A few weeks ago, for example, UTNO organizers hijacked the end of a performance at ARISE Academy put on by Dancing Grounds, a local non-profit that partners with schools to provide dance instruction to students, to tell its audience of teachers and parents about the benefits of UTNO membership.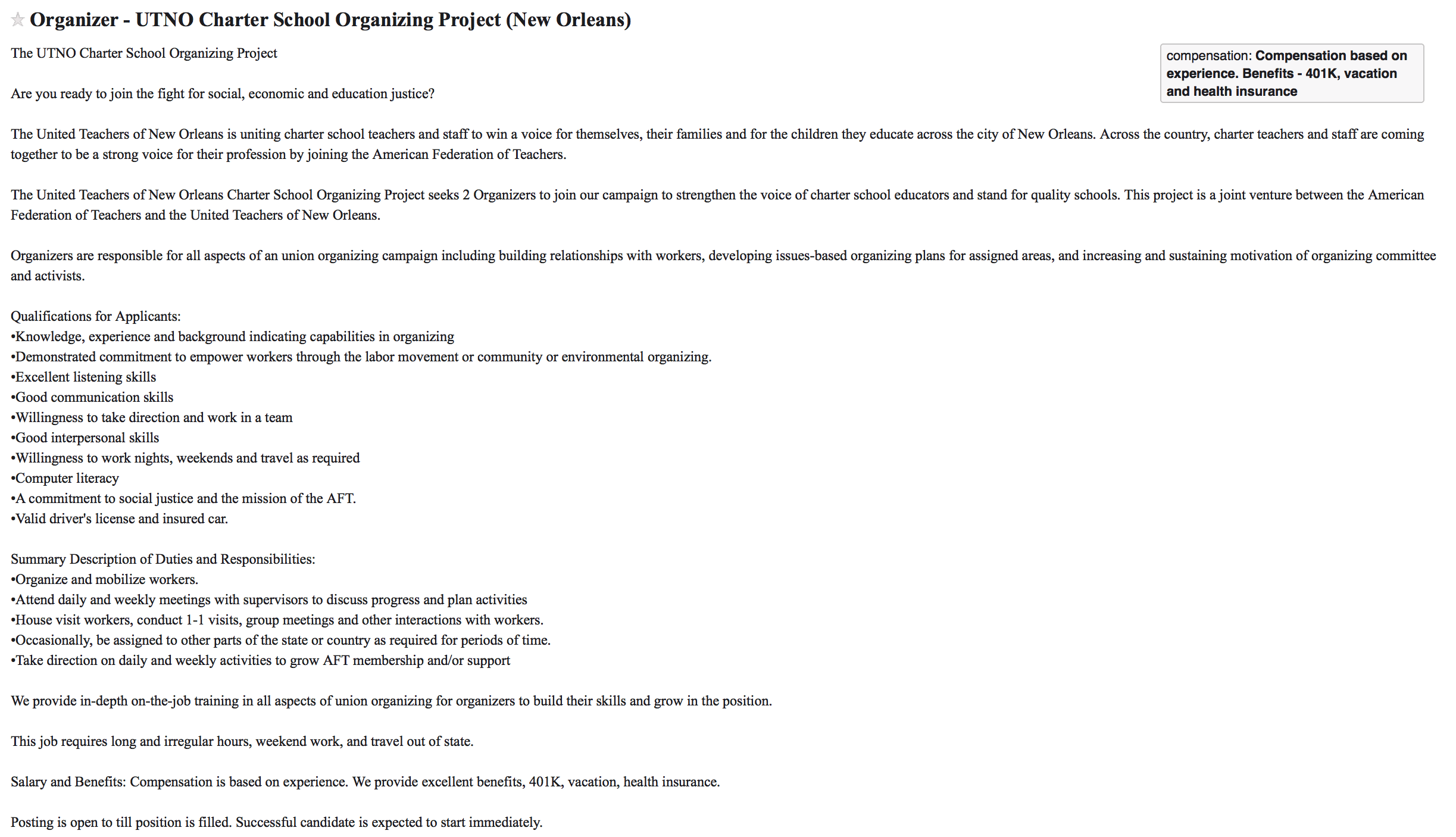 Furthermore, the union has put substantial resources behind organizing efforts in the city. According to the American Federation of Teachers' 2015 annual report [see below] filed with the U.S. Department of Labor, AFT's national office spent a total of nearly $2.7 million dollars in Louisiana between July 1st, 2014 and June 30th, 2015 (note: this figure does not include spending by state and local affiliates like the Louisiana Federation of Teachers and UTNO). The report further shows that nearly $355,000 of that total was earmarked for the "AFT/UTNO New Orleans Charter Organizing Project." AFT also provided UTNO with an additional $143,000 in F.Y. 2015 to cover "release time organizing expenses."
UTNO President Larry Carter with @RW eingarten at #aftALLin pic.twitter.com/AkcHlLuO8f

— LouisianaFedTeachers (@LaFedTeachers) November 7, 2015
When taken together, AFT allocated nearly a half a million dollars for organizing efforts in New Orleans in the past year – a surprisingly large amount for a school district in a right-to-work state where the teachers union has been pretty much dead since 2005. It should serve as a warning that AFT still poses a threat to reform efforts in this city. The substantial progress we've seen in our public schools in New Orleans over the past decade directly contradicts the teachers unions' pessimistic message that poverty trumps all. That's why the unions fight so hard to
malign the transformation of our public education system
 and that's why we shouldn't fool ourselves into thinking that they wouldn't tear it all down if we gave them the opportunity to do so.
---
* Full disclosure: I was a member of the United Teachers of New Orleans prior to Hurricane Katrina.
** This is in spite of the fact that Lusher had budget surpluses in excess of $1.4 million in both 2014 and 2015.
[scribd id=308097046 key=key-ZyjzbUn7b1TS5nF2Duec mode=scroll]
This post was originally published on PE+CO on April 12, 2016.