A friend down South sent an email that had great news, and a solemn subtext.
The good news is that New Orleans' results from this past spring's PARCC testing shows black elementary students there are outperforming similar students in every other state except Massachusetts.
This year ten states, including Louisiana, used tests that aligned to the Common Core State Standards for 3rd graders through 8th graders, which allows for better comparisons of sub-groups across states. That in itself is a huge improvement over Louisiana's past test, the LEAP, which masked poor performance relative to other states.
So, look at these results….
Percentage of 8th Grade Black Students
Scoring Mastery or Above
 English

Math

Massachusetts

45%

Massachusetts

33%

New Orleans

33%

New Orleans

28%

New Jersey

30%

Louisiana

18%

Louisiana

27%

DC

15%

Colorado

26%

New Jersey

13%

Cross-State*

24%

Cross-State*

13%

Maryland

23%

Colorado

11%

Rhode Island

19%

Maryland

10%

DC

18%

Arkansas

6%

Arkansas

17%

Rhode Island

6%
* Includes Colorado, District of Columbia, Illinois, Maryland, Massachusetts, New Jersey, New Mexico, and Rhode Island
The graphic below shows that New Orleans is also besting other districts in the state of Louisiana, at least in 8th grade English and Math.
Percentage of Black Students Scoring Mastery or Above in English and Math

The email also said this:
New Orleans is ranked 11th highest in the state out of 68 school districts In New Orleans, twenty-five percent of black students in grades 3-8 scored Mastery or above in English and math, 4 points above the state average of 21%.

These results are particularly impressive when you consider that in 2004, the first year the state released test results by sub-group, New Orleans was ranked last in the state in black student performance.
Now that we have the good news out of the way, there are two pieces of bad news here.
First, while New Orleans is shining in apples-to-apples comparisons of black students to similar students in other districts and states, the gap in test scores hasn't close yet between black NOLA students and all students in Louisiana (see below).
Percentage Scoring Mastery or Above in English and Math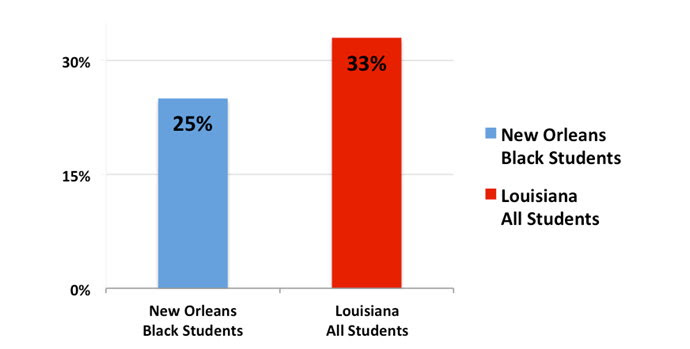 Second, while New Orleans deserves applause for making forward progress, it's just how few black students are mastering or exceeding standards, especially in places like New Jersey, a national leader in per-pupil investment public investment.
Not to be a buzzkill. We'll take the good news we can get, where ever we can find it.  New Orleans deserves every dose of positive reinforcement after years of trauma, neglect, politics, and scandal.
I'll cheer them on while hoping other states follow suit.